wow, folks... it's time to wrap up the covert robin. and announce prizes!! but first, a few thank yous.
to everyone who participated: when we first put together all of this, i had no idea that over 80 people would sign up. i had no idea that so many packages of handmade loveliness would soon be flying all over the world. i had no idea that i would meet so many cool people or that so many of you would put together such heartfelt gifts. thank you to each and every one of you for being a part of this. (btw... you can see a full list of participants
here
, complete with blog links)
to my amazing co-hosts: you ladies rock!! there should be more words here, really... but i can't think of enough to adequately describe what wonderful people i think you all are. there's a place in my heart for each of you :)
enough sappiness... on to the prizes!!! each of the co-hosts' prize winners will be posted on their blogs today as well, so make sure you check them out. also, you can
click here
to see all of the great posts that were linked up.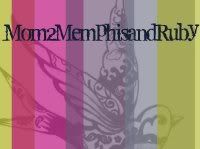 the winner of
a rainbow taggie blanket from the
etsy shop
of participant
Allison (
my raina sunshine
)
is......