halloween has not defeated me! costume two is complete and i feel a huge sense of relief :)
more pics and a how-to overview after the jump.
today i'm also linking up to the october followers fest, thanks to a little reminder from Kelley of
casa crafty by turtleturle
. so you can go check that out if you're looking for some new fabulous sites to add to your google reader. and if you're a new visitor here, leave me a comment about your blog and i'll gladly follow you along as well!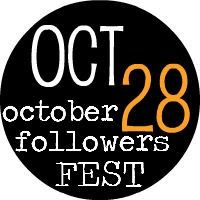 compared to the
full tinkerbell get-up
, this one was pretty simple (something i rarely manage to pull off). i started by cutting a 20" circle out of red felt with a 3" circle at the center for the neck.
the easiest way to do this (i think, at least) is to fold the fabric into fourths and measure from the corner, marking with pins, and then cut just inside of the pinned markings. then you just need to cut a straight line up one of the folded edges to make the opening.
then we cut out black felt polka-dots (using the material we had cut out for the neck-hole of the cape as a template) and pinned them to the red. note: dogs are not particularly helpful with this type of thing.
i used a satin stitch to sew the polka dots onto the cape, made a buttonhole, sewed on a button, and we were done! for the full costume, she'll wear a black t-shirt and pants and there are also plans for an antennae headband.
also on the agenda for this weekend: trial two for the handprinted: fabric swap. which reminds me... check out
this post by talktothewindandsun
to see the super cool elephant fabric i can't wait to receive from Riyo in Japan!! and i have some bags, skirts, dolls, and other such items that i really should be selling to fill some holiday orders from the
imagine gnats etsy shop
. so i'd best get to work!